While the pandemic has forced may firms to consider video conference solutions to help overcome restrictions of travel and reduction in live hands-on training opportunities, others have used this as an opportunity to the benefits of augmented and virtual reality enhanced remote training.
The pandemic has forced many firms to take an inward look at the quality and effectiveness of their training programs and the technology they use to distribute training to their technicians with many using this as an opportunity to explore Augmented and Virtual Reality remote training solutions. During normal operations, firms would typically rely on a mix of live, hands-on training sometimes provided by their original equipment manufacturer partners and remote, virtual training through online collaborative solutions such as WebEx, Microsoft Teams or Zoom. With many firms locking down their facilities and dramatically restricting or completing eliminating travel, training has moved online. According to Gartner Inc, "roughly 97 percent of the organizations immediately canceled all work-related travel due to the COVID-19 pandemic." This has put the spotlight on the technology firms currently use and many are not likely what they are finding.
The Challenges of Remote Training
With travel restricted and live, hands on training indefinitely delayed for many, firms are finding many limitations with their existing video conferencing tools. First, instructors are finding the solutions to be non-engaging for remote learners. Learners are passive, sometimes able to engage in chat or ask questions but there is nothing interactive on their side of the remote training experience. Second, those instructors that are used to providing live, hands on instruction are struggling to integrate web cams from vantage points that adequately engage remote learners. For example, it is difficult to position a camera to show wear patterns on a tire, cracking on brake calipers or how to take simple measurements. Lastly, content often found in e-learning or shared in slide style presentations such as pictures, line drawings or even videos lack depth and are inadequate examples to explain a concept.
Couple those challenges with the struggle to provide an adequate viewpoint for the remote learner and you can see how an instructor can become frustrated while the learner does not receive effective training. This has led some firms, often smaller, to rely on third party content from video-sharing services like YouTube. However, with the validity of open source YouTube videos being hard to vet, firms have seen inconsistencies develop within their training process. Additionally, firms have seen the aftereffects of distributing a video link that provides instruction counter to what is typically standard. Thus, resulting in a lack of compliance to standard procedures and an increase in maintenance cost. To avoid such costs, firms have begun to research the benefits of using augmented and virtual reality as a medium to conduct training.
What is Augmented and Virtual Reality?
Augmented and Virtual Reality (VR) were once considered to be years off from being affordable, reliable and accessible enough to support ongoing training operations, let alone reinvent them as is often the way they are promoted. Augmented Reality (AR) according to Gartner's IT Glossary is "is the real-time use of information in the form of text, graphics, audio, and other virtual enhancements integrated with real-world objects." Imagine a technician wearing a headset or looking through the camera on their phone or tablet and instead of just seeing the engine or tire they are working on, they see a set of instructions that explains how to perform a under hood inspection, or view a 3D tire that shows an example of tire wear that allows remote learners the ability to compare and learn the difference. While AR lets the technician see through their phone or headset while maintaining a view of the real world, virtual reality headsets transport the trainee to another world all together. In a virtual headset, a trainee can feel as though they are standing in a different maintenance bay, looking at a virtual example of a truck and using either hand gestures or video game like controllers that allows them to operate tools and perform service tasks often receiving feedback on their performance.
For more information about the difference between augmented and virtual reality check out the blog post here.
Many firms, are now investigating these technologies because they have realized they are cost effective, no longer require a unique skillset like a software developer to create training content and are much more accessible. Augmented reality development kits have been made available on both iOS and Android operating systems for a few years now making mobile AR apps available on phones and tablets that technicians already have and are familiar with. Virtual reality headsets have exploded on the consumer market, many of them now stand-alone devices no longer required to be tethered to computers. This increase in accessibility in the consumer market have made the headsets dramatically more cost effective. Now that the cost is lower, the technology is more accessible and many technicians have likely been exposed to the technology outside of a work setting, thus making 2021 the right time to incorporate the technology into your training process.
Augmented and Virtual Reality for Maintenance Training
AR and VR both have their own benefits, which are distinct from each other. AR training software is often considered an easy-to-use solution due to instructors having the capability to create their own training content via a website and then instantly distribute the training to their remote work force via AR compatible mobile apps. This immediately provides an interactive self-guided training solution to all your technicians simultaneously. Additionally, with AR being see through, the technicians can use the instructions in real time as a step-by-step guide to perform a repair or inspection. A huge benefit of AR software is that it can let you re-use content like pictures and videos you already have.
Moreover, since AR relies on a camera like a web cam or GoPro you can also live stream a training session. Augmented software can allow a single instructor to live stream from the Microsoft HoloLens to a website where many technicians can watch in real time. This helps solve the previously stated problem of providing the right viewpoint to remote learners because you can now give them a first person-perspective in real time. Further, the instructor can insert many exemplar images, schematics or 3D CAD files that increase the flexibility of the content they share with trainees. One large trucking firm is exploring how a single instructor can live stream to hundreds of facilities across their U.S.-based facilities and then making the actual training content available to all technicians simultaneously on their mobile devices after the training session.
While AR remote training content can be made rapidly accessible to a large workforce and used at the point of need, virtual reality is typically more of a one person at a time training solution as only one trainee can use the headset at a time as they interactive with their virtual training scene. It is the interaction that sets VR apart as it can simulate a real task. Imagine a welding task where everything is virtual, the tools, the flame, the consumables. A VR application can introduce how to perform certain welds, then allow the technician to perform the action holding the virtual flame to the virtual metal. They can do this continuously, practicing different welds and being evaluated in real time for their technique and skill. This is not something that could adequately be taught or even refreshed using e-learning. Not all hands-on skilled trades can translate directly to VR, but I am sure given the welding example you can think of a substantial number or examples that are great candidates for you.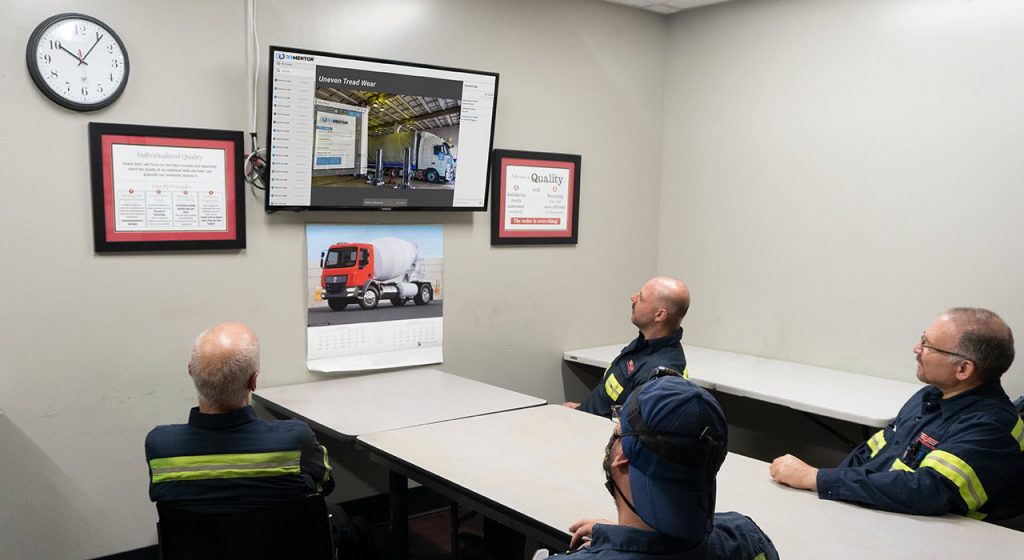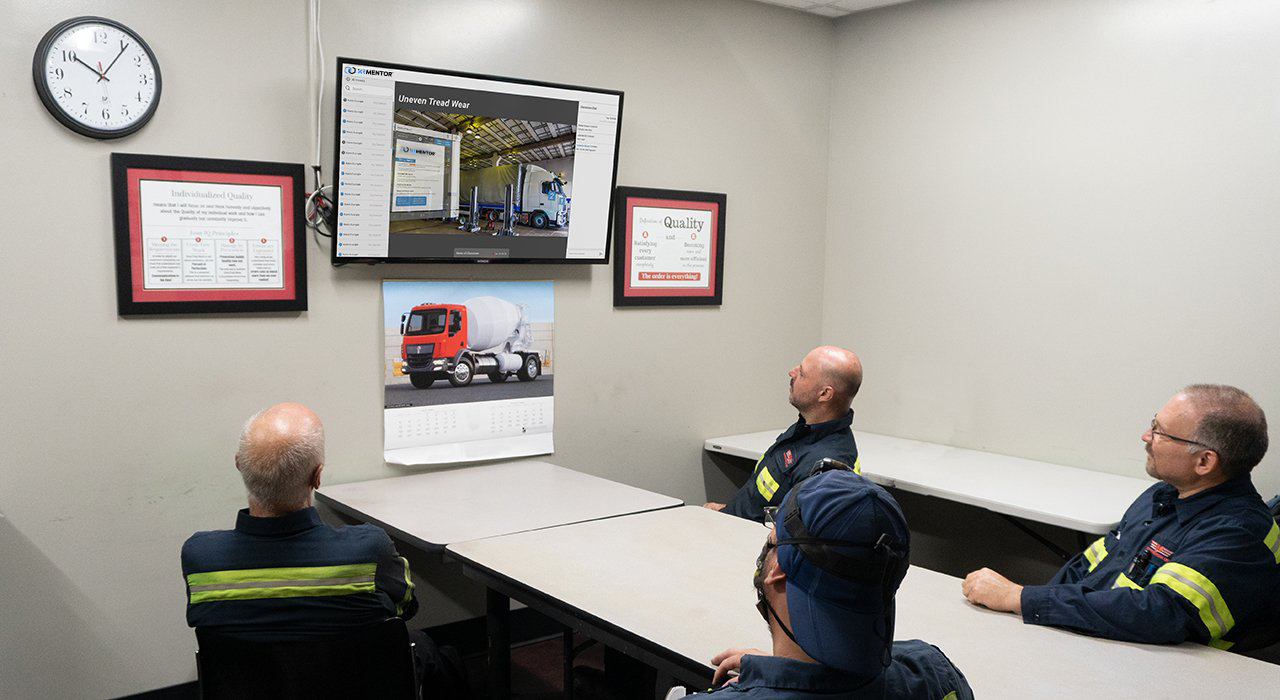 Enhanced Maintenance Training
While the pandemic has forced may firms to consider video conference solutions to help overcome restrictions of travel and reduction in live hands-on training opportunities, others have used this as an opportunity to explore augmented and virtual reality. Due to their increase of use, accessibility and the level of interaction AR and VR enhancing training can provide your firm with an improved training process, while providing a trackable return on investment.
This article is apart of a 6 part series discussing the usage of Augmented Reality for Heavy Duty Maintenance
---
About the Authors
Matt Johnston is the Division Head of Commercial Solution at Design Interactive (Orlando, FL) and chairs the augmented and virtual reality task force for the American Trucking Associations Technology and Maintenance Council. He has worked with augmented and virtual reality for more than a decade and leads development of XRMentor™—an instructor led, and self-guided training platform enhanced by augmented reality, he can be reached at matthew@designinteractive.net .
Lexandra Amos is the Co-Founder and Chief Strategist for Unfamous Amos a Digital Strategy and Business Coaching Firm. She has worked alongside firms to help develop engaging and profitable digital strategies, she can be reached a Lexandra.mapp@gmail.com