With COVID-19 changing the way that businesses connect and train employees, organizations are searching for virtual training solutions to help with the implementation of remote training processes to remain connected during a pandemic. An area in dire need of training innovation is that of maintenance. Couple this challenge with veteran technicians retiring, mandated social distancing guidelines and a lack of experienced technicians, how can businesses rapidly transfer expert knowledge while keeping lines of communication open?
What about your industry? How is your organization dealing with the challenge of transitioning your training to virtual platforms? To remain as productive as possible, being able to access and transition your employees knowledge to a digital platform can be revolutionary for your organizations existing training process and ultimately your bottom line.
When implementing an effective maintenance training process, that can easily transition to a virtual environment, there are some necessary considerations one must take into account. Check out our Top 3 Things to Consider when developing a maintenance training process.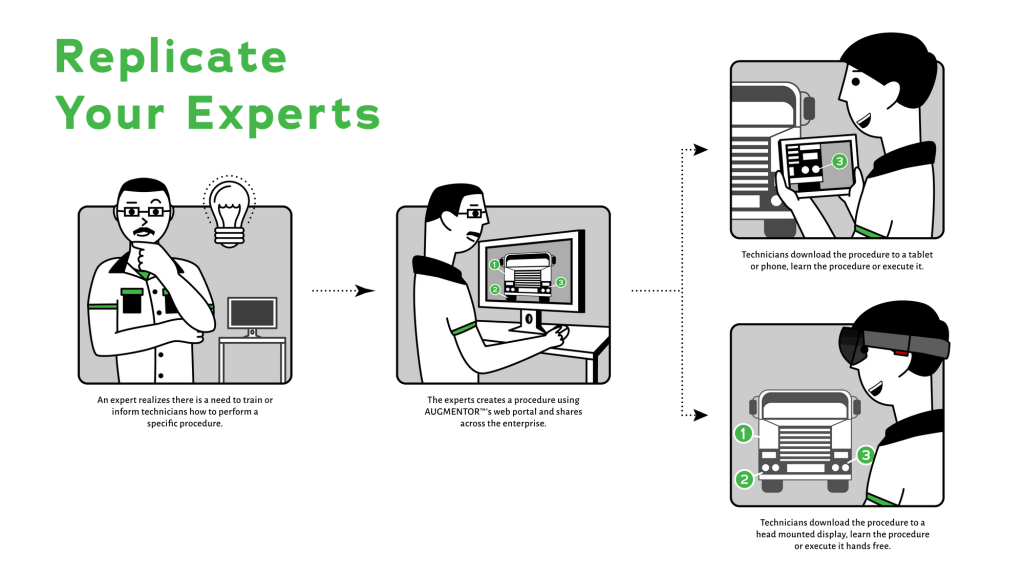 Focus on the Symptom, not the solution
Understanding who will be participating in your training can help to shape the content. Will it be a novice? A new hire? Outlining training that focuses on helping the learner identify problems and recognize the symptoms of potential maintenance issues, helps significantly with knowledge retention. Augmented Reality training solutions like, XRMentor™, provides instructors with the ability to create step by step AR procedures, that can then be viewed during live stream training. Having a procedure based training method can significantly increase how learners effectively approach a problem or repair.
Create solution based Action Plan
Creating an action plan that addresses the needs of the organization will lead to a more efficient training action plan in the future. Ask yourself, what training procedures do we want initially implement in augmented reality? How should we customize our training content to make our employees and partners feel like their receiving the same level or better of training and communication?
Implement Your Plan
Helping your workforce build mastery will reduce deviations from corrective action procedures. The focus here is on positively reinforcing the learner and supporting transfer of knowledge from one case to another and applying it appropriately. In this way, lessons learned from one problem can be effectively applied to the next.
Currently, AR training systems support the implementation of corrective action with interactive dashboards that allow of instructors to track the learners progress through each training module. Taking advantage of AR software training features like Mobile Authoring allows your organization to rapidly create and edit training procedures in real time. This eliminates the risk of implementing a corrective action plan that may be outdated due to changes in maintenance service codes. Overall during the implementation phase of training, making sure to set your learners up for success will result in a confident and highly productive employee.
In Conclusion
With the current increase in demand for organizations to find effective virtual training during a pandemic , Augmented Reality has shown to be one of the best ways for maintenance and manufacturing companies to continue to train their workforce. Couple that with a rapidly aging workforce brings significant pressure to organizations to implement processes that can transfer this knowledge faster. When designed effectively, augmented reality may be the way your organization can implement a remote training process that helps your organization reduce cost and increase first time fix rates.
---

Design Interactive has been optimizing human performance at ludicrous speed since 1998. We develop innovative, engaging augmented and virtual reality training solutions and create biosignatures of human emotion, cognition and physical state that empower consumers.
Contact Matt Johnston learn more about how you can use AR technolgoy during COVID-19.